Archive for Invest in 2du Media
Why does Silicon Valley ignore people based on age?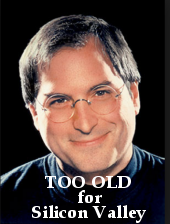 Go into any creative industry (such as a startup or an advertising agency) and it is absolutely impossible to find anyone over the age of 40.  And yet, in many creative fields, older people completely dominate.
Steve Jobs reinvented industries from age 21 thru 56 and the world would agree that he would still be surprising us with his creativity today if he was still with us at

age 60
Albert Einstein was working on the Manhattan project at

age 61

Thomas Edison filed for more than 200 patents between

60 to 73

.
Andy Bechtolsheim was the first investor in Google,

age 54

The average age of the five Best Director Oscar nominees is 62.
The Pulitzer Prize for Fiction went to Jennifer Egan,

age 50

The Pulitzer Prize for Drama was awarded to Bruce Norris, age 52
The Noble Prize for Literature went to Tomas Transtromer

age 83

.
The Emmy for Best Comedy went to

Modern Family

creators Christopher Lloyd,

age 52

and Steven Levitan,

age 50
And I am sure that NONE of these people would get an investment, or be hired by ANY company in Silicon Valley.  Dan Sheinman (the original investor in VMWare) is one of the only exceptions to the Silicon Valley bias.  He says "Older entrepreneurs are the mother of all undervalued opportunities."