A "Next-gen" Loyalty Platform Combines REAL-TIME ENGAGEMENT and MOBILE REWARDS
By
By adding a GeoHelp Community to your website, you can have FULL CONTROL of your brand, the ability to capture leads, promote customer loyalty, offer superior service and capture valuable customer data to a hosted SQL database.  Here is an example of a customized GeoHelp by 2du® Help Community that is added to an existing website: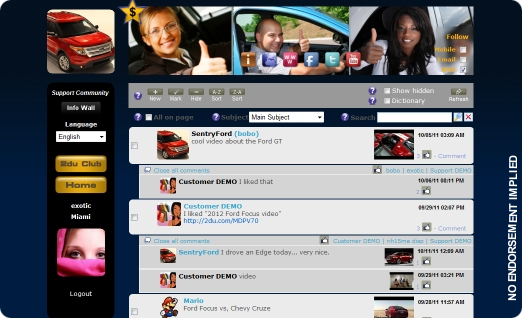 LOYALTY features include:
POINTS for participating in the conversation !
CUSTOMERS get their own PORTAL
REWARDS can be given INSTANTLY to conversation participants
DELIVERY method is chosen by the consumer (Mobile, Email, Portal)
Customer inquiries can be initiated via MOBILE SMS
Individualized or group promotion targeting
REDEMPTION tracking using linear & QR Mobile barcodes
LOCATION, mobile position statistics
This combination of features is bundled in a very easy to understand consumer and admin interface that makes it FUN for everyone involved !  Social engagement + loyalty rewards is a WIN-WIN !
Click here to see the example above.
Click here to see the GeoHelp Portal
Click here to see the GeoHelp ADMIN portal.
Leave a Comment